Check-Off ✔️ "Get a Professionally Designed Website & Funnel Done" for 2022 at a Huge Discount!
"I really enjoyed working with Ramiro & Rick. They really brought my vision to life… My website has soul! Everyone who sees it says it looks exactly "like me", and that was important to me and my brand. Thanks guys! "
Nora Montanye

An Exclusive Offer for the AttractionMarketing.com Community:
Solidify Your Brand With a Personal Logo & Professionally Designed Website!
Grab one of our 'done-for-you' packages
and get over

$3,500 in Free Bonuses

!
*Financing & Payments Available
We've Added A Few More Spots…

"I really enjoyed working with Ramiro & Rick. They really brought my vision to life… My website has soul! Everyone who sees it says it looks exactly "like me", and that was important to me and my brand. Thanks guys! "
Nora Montanye

A Strong Digital Presence Is More Important Now, Than It Ever Has Been!
Imagine being able to hire the same graphic designers and web developers used by the biggest earners in the internet marketing industry!
The same team used by your digital marketing leaders (Ferny Ceballos, Brandy Shaver, Whit & Cari Higham, Kate McShea, Tanya Aliza), big celebs (Floyd Mayweather, Mike Tyson), and international brands! (Apple, DIRECTV, Hyundai)
 What do you think that would do for the credibility of your business?
Today, a professional website design is what can set you apart from all other businesses online, and breathe new life into your online lead generation and sales.
For a limited time, you can hire the same dream team of programmers and developers to build out your entire online presence for an extreme discount!
Here's what you'll get if you sign up today!…….
PART 1: YOUR OWN PERSONAL LOGO & BRANDING
Put Yourself Ahead of Your Competition Instantly With a Personalized Logo and Branded Social Media Pages
A personalized logo and graphics package that "represents" you
We know that everybody is unique – especially you! Our talented graphic design team specializes in translating your unique personality and tastes into a professional and inviting custom graphic set – which encompasses your values and boldly projects the look & feel that you want to portray unto the world. You'll be amazed at how good you can look!
Beautifully Branded Facebook, Twitter, and YouTube Banners
Social media marketing is all about building trust, and trust begins with a first impression!
By using a professionally designed social media banner, customers have a good feeling right off the bat, knowing that you have given careful thought towards your company and your brand.
After getting to know you, your strengths and individuality, we are able to help bridge the gap between you and your customers in a sleek and subtle fashion.
PART 2: "DONE-FOR-YOU" PERSONAL WEBSITE
We'll Build Your Brand and Website Using AttractionMarketing.Systems, Which Does All The Heavy Lifting For You…
A Powerful Website Building Solution for Network Marketers
Attract More High-Quality Prospects, Enroll More Teammates, and Sign-Up More Retail Customers.
By using our state-of-the-art software, you'll be able to create good looking and highly effective web pages to help you attract more prospects, generate more sales, and enroll more people with a few clicks of a mouse.
A "Done-For-You" 3 Step Opt-In Funnel to promote your #1 lead generating offer.
What's the most effective method for converting a website visitor into a paying customer? A funnel! Not only do we create a stunning website, but we go above and beyond by creating a 3-step funnel showcasing your main product offer. There's no need to struggle with learning any new software or capture page platforms, as it's already done for you, and seamlessly integrated with the autoresponder of your choice.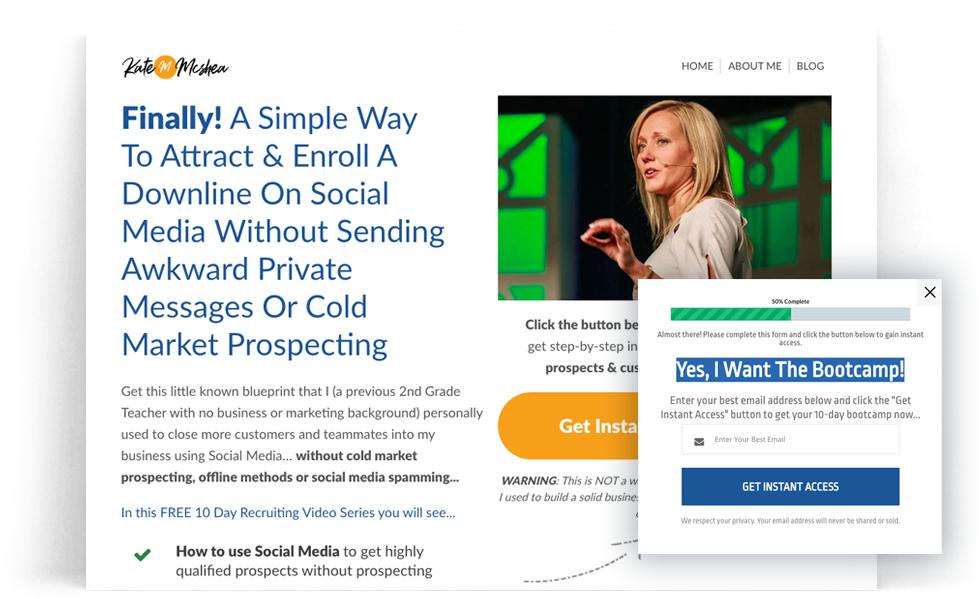 A Marketing-Optimized Website Layout
Your website layout will be built with a strategic structure and organization, leading every visitor to your #1 offer. This website will not only be styled with personalized blog graphics, it will be structured and designed to generate you leads.
A "Done-For-You" Products Page
Fully designed product page, featuring 5 of the Top Product and Offers EMP promotes. If you have your own products, send us up to 5 products or offers you want to promote for your business, or we can mix and match!
A "Done-For-You" Bio Page
Let your customers get to know you with a personalized "About Me" page! We'll put it all together for you, all you have to do is be you!
BONUS: Includes a FUN FACTS section so you can express your Authentic self!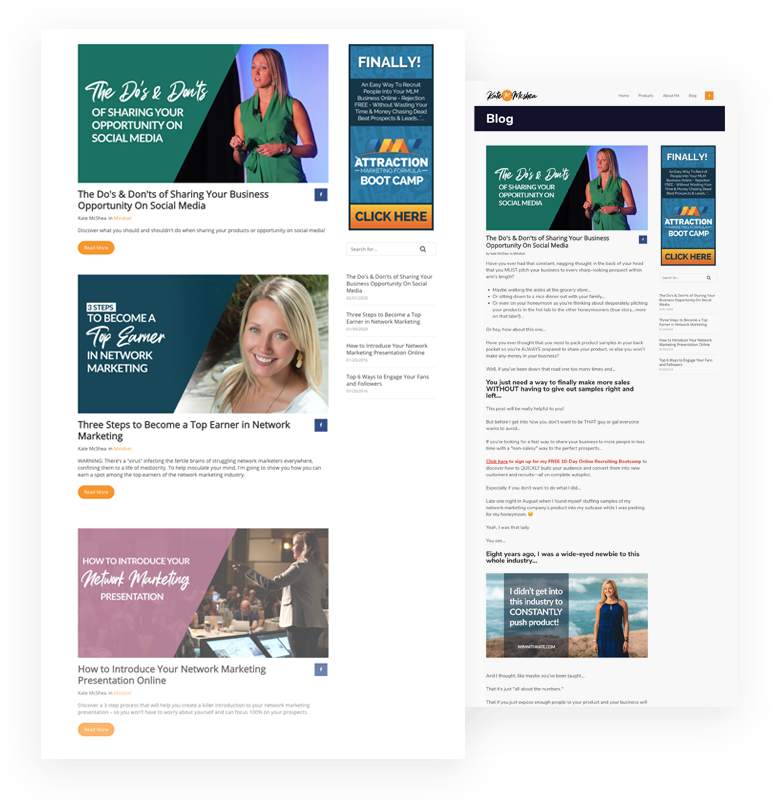 SEO Optimized Blog Page With Your 3 of the Highest Converting Blog Post
We'll setup your website with 3 blog post, with strategic formatting, images and provided a Call-To-Action to turn visitors into leads and customers.
A Pop-Over Lead Magnet Offer
Fully designed product page, featuring 5 of the Top Product and Offers EMP promotes. If you have your own products, send us up to 5 products or offers you want to promote for your business, or we can mix and match!
100%
Seamless

Autoresponder Integration…
Facebook, Twitter, & YouTube Header Graphics for Your Social Media Pages
BONUS!

Matching Social Media Page Graphics & Icons!
As an added bonus, you'll receive a matching Facebook Timeline Cover, Twitter Header, and YouTube Channel Design, solidifying your online presence across all of your social media outlets. We'll also add eye-catching icons to your website to make sure visitors know how to stay connected with you, and easily share your content.
By The Way… Congratulations!
You Own Your New Personal Brand!
You'll maintain complete control and ownership of your new custom graphics and branding package. Upon completion of your WPMakeovers Project, all graphic files and copyrights belong solely to you. You can use the graphic files any time you want, anywhere you want.
PLUS: 2 Months of Professional Support! ($700 Value)
Have questions about your beautiful new website? No Problem! In addition to personalized video instructions on how to use your product, we are available to work with you one-on-one to make sure you are 100% comfortable and capable!
It's Everything You Need in One Fantastic Product!
Some of Our Done-For-You Logos & Branding
Benefits of a
'Done-For-You'

Blog Makeover
Save Time
Imagine the amount of time you'll save not having to struggle with learning the various aspects that go into a fantastic website. Let our professional team of experts do the work for you – the right way.
Save Money
We guarantee the most bang for your buck. We'll provide the most valuable materials for a complete web and social media presence, creating an affordable and truly memorable brand.
Gain Trust Instantly
A typical new visitor to your website will determine whether to stay or leave within the first 15 seconds. An aesthetically pleasing site will show the visitor that you're serious and didn't just hack something together in the dark hours of the night.
Brand Yourself as an Expert
In every buying decision, be it hiring a consultant or finding a good mechanic, we all want experts. We want someone who appears to have a proven solution and not someone who may waste our time and money.
More Leads & More Sales
You can spend months focusing on doubling traffic to your website, but if you don't have compelling offers, effective calls-to-action, and convincing lead nurturing campaigns, you won't have a way to turn that traffic into leads and ultimately profits.
Rest Assured
It's easy to sleep at night knowing you've made the right move – Saving time and money, stress, headaches, and frustration. We do the dirty work – and make you look good in the process.
100% Satisfaction Guarantee
We're so confident in our talents that we'll offer two full rounds of revisions to your graphics so you can be 100% happy with your personalized, custom-branded look.
All Projects Created in Collaboration With:
Ramiro Ceballos – Sollabec Marketing & Consulting
Owner & CEO of Sollabec Marketing & Consulting, based in Los Angeles, California. Ramiro Ceballos graduated from the University of California, Riverside, and after working 3 years in the corporate world, his entrepreneurial aspirations along with his brother, Ferny Ceballos, motivated him to turn to the Internet marketing industry to escape the rat race.
Ramiro specializes in Website development, local marketing and traffic generation. He's currently in integral part of the Elite Marketing Pro team in mentoring many business owners in developing their online business using the same strategies he's learn through his mentors.
In that past 4 years Ramiro has built his marketing agency into a successful multi-year 6-figure business, generating thousands of leads & sales for his local clients.
We've Extended Offer To 5 More Spots!

You Can Lock-In Huge Savings! - This Offer Ends In...
You Really Want This, But Want To Talk To Rick or Ramiro First?
Call 1-888-988-BLOG
Leave us a voicemail and we'll call you right back!
Solidify Your Brand Today With A
Personalized Done-For-You Website!

Features
Graphics Only
Premier Package
Executive Package
Personal Branding Custom Logo

✔️

✔️

✔️

Custom Header Graphics, & Photo Retouching

✔️

✔️

✔️

Custom Facebook Timeline Branding Cover

✔️

✔️

✔️

Custom Twitter Header Branding Graphics

✔️

✔️

✔️

Custom YouTube Channel Branding Design

✔️

✔️

✔️

Custom AttractionMarketing.Systems Website Setup & Configuration

❌

✔️

✔️

A "Done-For-You" Bio Page with Strategic Layout

❌

✔️

✔️

A "Done-For-You" Products Page (up to 5 products)

❌

✔️

✔️

SEO Optimized Website with Consulting

❌

✔️

✔️

5 Content Pages, including Blog Page + 1 Blog Post

❌

✔️

✔️

1 Contact Form

❌

✔️

✔️

Social Media Integration (Icons, Facebook Pixel & Blog Comments)

❌

✔️

✔️

Personal Branded Homepage with Custom Lead Magnet Banner

❌

✔️

✔️

AttractionMarketing.com's #1 Lead Magnet Graphics, Banner & Funnel Buildout

❌

✔️

✔️

AttractionMarketing.com

#1 "Lead Capturing Machine" Opt-In Box

❌

✔️

✔️

AutoResponder Integration with Lead Magnet

❌

✔️

✔️

Custom Menu with Call-To-Action Button

❌

✔️

✔️

Privacy Policy Consulting & Set-Up

❌

✔️

✔️

2 Months of Professional Support!

❌

✔️

✔️

Work With Me 2-3 Step Funnel with Qualifier Application Form

❌

❌

✔️

Personal Branded Short Sales Page of the Attraction Marketing Formula e-Book

❌

❌

✔️

Personal Branded Enrollment Funnel with Conditional & Logic Form

❌

❌

✔️

Regular Pricing
$1,197.00
$4,997.00
$6,497.00
Promotional Pricing
$697.00
$1,497.00
(Advanced Only)


Ask For Details If Interested!
Here's What You Get When You Order Today:
Custom AttractionMarketing.Systems Website Setup & Configuration
Custom Header Graphics, Logo, & Photo Retouching
A "Lead Capturing Machine" Opt-In Box & 3-Step Funnel
AttractionMarketing.com's #1 Lead Magnet Offer & Funnel Buildout
AttractionMarketing.com's #1 Lead Magnet Graphics & Banner
Social Media Integration
Blog, Page, and 3 Ready For You Blog Post
AttractionMarketing.com's Lead Magnet Graphics & Banner
5 Content Pages
Contact Form
Plus These Amazing Bonuses!
Custom Facebook Timeline Cover
Custom Twitter Header Graphics
Custom YouTube Channel Design
New Payment Options Available!
Graphics & Website – $1,497
(Personal Graphics & 'Done-For-You' Website)
(SAVE $100 BY PAYING IN FULL!)
2 Payment Option – $797
(Personal Graphics & 'Done-For-You' Website)
(Second payment due in 30 days)
4 Payment Option – $430.50
(Personal Graphics & 'Done-For-You' Website)
(4 Monthly Installments)
Graphics Only – $697
(Logo, Banner & Social Media Pages)
---
$0 Down, 0% Financing for 6 Months Available!
Apply for PayPal Credit
(Subject to Credit Approval)
You Really Want This, But Want To Talk To Rick or Ramiro First?
Call 1-888-988-BLOG
Leave us a voicemail and we'll call you right back!
"We Are Very Happy With the End Results and Would Definitely Recommend Rick & Ramiro to Online Business Owners Who Are Looking to Take Their Brand and Business to the NEXT LEVEL!!"
"Ramiro and the team at WP Makeovers took our website vision and design ideas, and created a masterpiece!
We have been on the fence for a while about revamping our out-dated business website. Every time we thought about updating our site it felt overwhelming, and created a lot of stress for us. With us working full time jobs, being parents to an active toddler, and building our brand and business online our free time is very limited.
Rick & Ramiro took the time to understand in detail what we wanted our new site to look like, and created a simple plan to make it work!"
Ramon & Doneshia, Internet Marketers

The
Industry Experts, BIG Celebs, and Marketers Just Like Yourself

all Love Our Work!
"Ramiro and Rick are experts in creating professional, creative, and great looking websites. They took our suggestions and created a product that was even better than what we envisioned. I would definitely recommend their services."
Richard & Alicia Jones, Internet Marketers

"If you want a high quality, beautiful and high converting website for a great price, hire WordPress Makeover!"
Ray & Jessica Higdon
"Rick is our "go-to" guy for all of our products, websites, and graphic design."
Fernando Ceballos, Elite Marketing Pro
"I have to say… I have dealt with a number of website service providers over the years and never have I been as satisfied as I have been with Ramiro and Rick at WP Makeovers. We developed a great relationship and trust from day one and they did a fantastic job with my website, from start to finish. They are now my one stop shop for anything I do online! Thanks for everything boys, including being patient with me!"
Johnny Dimos,

Internet Marketer
"Ramiro and Rick designed my website and they were so great to work with. They helped me focus on what I needed and wanted. They have a great system to put your thoughts into a beautiful design that is Unique to you. I have enjoyed working with them. This is my 3rd time Ive hired someone to build my website. Rick and Romiro are skilled at building your specific website. They went above and beyond to make sure I understood how to manage my website after it was built. I appreciated the personal video instructions and directions they gave me. Thank You for all your expertise and care!"
Lori Ann Garner, Internet Marketer

"We loved working with Rick Robbins and Ramiro Ceballos during the design of our website… Rick has a keen eye for graphic design and beautifully took what I envisioned and made it come to life. Not to mention, they had a quick turn around time and were very easy to communicate with. If you're looking to work with the best in the design of your website, we give WordPress Makeovers and Ramiro Ceballos our highest endorsement."
Whit & Cari Higham, Internet Marketers
No Pirates in These Waters
A common problem with hiring a web developer overseas, on Upwork or Fiverr is that there isn't any trust. These web "pirates" can take your hard earned money and sail off into the night.
No Sharks at This Table
Your online portal needn't be a hole in a computer screen that you throw money at! Sharks will come up with any and every way to nickel-and-dime you for what you don't really need.
No Ogres in This Tower
We like to "go outside and play" – and we have real-world, tested experience. We've been on the ad agency floors, on big client calls, and you can be sure to be treated like a million dollar client!
Have A Question…?
We're Here to Help
Call us anytime Toll-Free at 1-888-988-BLOG
Q.

How long will it take for my web site to be designed?

A.Your website will be delivered within 4-8 weeks from the date of your order form completion.

Q.

Do I need to purchase a domain name and hosting package?

A.If you're using the AttractionMarketing.system platform, no.  That's included. We can provide assistance to you in this area if needed.

Q.

Can I order a WordPress Makeover if I already have a website?

A.Yes. We can build your site from scratch or work with an existing Website install. All of your current content, blog posts, and pages will remain in tact.

Q.

Do you offer any SEO or PPC services?

A.Yes! We have an extensive list of SEO and PPC packages. Just ask!

Q.

Do you provide plugin installation, configuration or support?

A.No Plugins are required when building on the new AttractionMarketing.Systems Platform.  However, if you decide to build on WordPress, plugin configuration, and plugin support are 3 different areas. We may be able to provide plugin installation, but cannot always provide configuration and do not offer 3rd party plugin support. Plugin configuration (especially in regards to SEO plugins) is a highly specific process that is best to be undertaken by the user or an SEO strategist. We do not offer any support or troubleshooting for 3rd party plugins. If your site is experiencing plugin conflicts or errors prior to our involvement with it, we must be made aware of them during your application and we may be able to troubleshoot any issues at an hourly rate.

Q.

Are there any hidden fees or costs that I need to be aware of?

A.No. Our Products, a-la-carte items and hourly maintenance prices are strictly adhered to. This will ensure that you know exactly what you are receiving prior to the start of the project, and for what amount. If a new idea, client change of direction, or technical issue arises during your project's creation, you will always be notified beforehand and must give approval for any extraneous costs or hourly work fees. This package includes header banner design for homepage/blog, single post and regular pages, as well as custom sidebar opt-in box design. No interior content formatting. Additional customization can be added at $65/hr

Q.

Am I tied into WordPress Makeover for any site maintenance or updates I wish to do once my website is designed?

A.Your website and all graphics created by us belong to you 100% upon completion. This means that you can commission anyone to update or edit any aspects of your website for you. We offer a variety of maintenance packages to address any ongoing maintenance or upkeep issues you may foresee your project needing in the future.

Q.

Is my website mobile or tablet friendly?

A.Yes. Your personalized website will utilize responsive design, so your website and all generated content will render nicely on mobile phones and tablets.
YES! I'm Ready To Get Started Today
I'm Ready to Step Up My Game & Let the Experts Make Me Look GOOD!
For Questions, Email info@wpmakeovers.com
Limit 20 People Offer Extended until Dec 11th, 2021 @ 11:59pm PT
Must redeem website order form by June 30th, 2022.
Customers will be served in the order they are received.  This offer is a product of WPMakeovers only.
Due to the nature of this deeply discounted offer, in combination with the limited spaces available , All sales are final. No refunds.